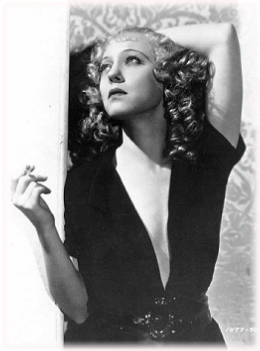 Sally Rand was born Harriet Helen Gould Beck in Hickory County, Missouri. She also performed under the name Billy Beck. She was an exotic dancer and actress.
During the 1920s, she acted on stage and appeared in silent films. Cecil B. DeMille gave her the name Sally Rand.
She was selected as one of the WAMPAS Baby Stars in 1927. After the introduction of sound film, she became a dancer, known for the fan dance, which she popularized starting at the Paramount Club. Her most famous appearance was at the 1933 Chicago World's Fair entitled Century of Progress. She had been arrested a few times due to indecent exposure while dancing, but the nudity was only an illusion.
She also conceived and developed the bubble dance, in part to cope with wind while performing outdoors.