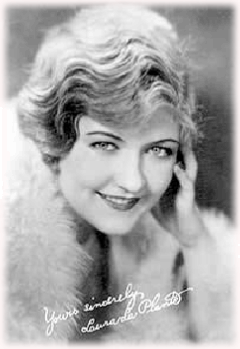 Laura La Plante made her acting debut at the age of 15, and in 1923 was named as one of the years WAMPAS Baby Stars. During the 1920s she appeared in more than sixty films. Among her early film appearances were Big Town Round-Up (1921), with cowboy star Tom Mix, and the serials Perils of the Yukon (1922) and Around the World in 18 Days (1923).
The majority of her films (i.e. from 1921 to 1931) were made for Universal Pictures. During this period she was the studio's most popular star, "an accomplishment duplicated only by Deanna Durbin years later." Her best remembered film is arguably the silent classic The Cat and the Canary (1927), although she also achieved acclaim for Skinner's Dress Suit) (1926 with Reginald Denny, the part-talkie The Love Trap (1929), directed by William Wyler, and Show Boat (1929), adapated from the novel of the same name by Edna Ferber. Quite unusual for its day, a scene of La Plante in Show Boat was broadcasted on early British television.
The advent of 'talkies' effectively shortened her career. Only in her mid-twenties, La Plante proved to be a quite natural and appealing presence in early talkies but the huge wave of new stars in those years overshadowed her. She made her last appearances for Universal in the Technicolor musical extravaganza King of Jazz (1930). For a while she free-lanced, appearing in The Matrimonial Bed (Warner Bros., 1931), directed by Michael Curtiz and co-starring Frank Fay, and Arizona (Columbia,1931), co-starring a young John Wayne.
La Plante subsequently went to England where she appeared in several "quota quickies", including Man of the Moment (1934), with Douglas Fairbanks, Jr.