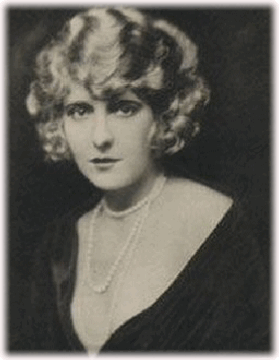 Pearl White was an American film actress; the so-called "Stunt Queen" of silent films, most notably The Perils of Pauline.
Pearl White was born in Green Ridge, Missouri, and lived on a small farm with her four brothers and sisters. She was the youngest child of the family.
She obtained a role with the Diemer Theater Company while in her second year of high school. In 1907, at the age of 18, she went on the road with the Trousedale Stock Company, working the evening shows while keeping her day job to help support her family. Before long she was able to join the company full time, touring with the group throughout the American Midwest.
For several years she played a variety of small roles until she was spotted by the Powers Film Company in New York. She made her debut in films in 1910, starring in a long series of one-reel dramas and comedies for the Powers Film Company in the Bronx, New York.
Pearl White was offered a chance by Pathé Frères to perform in The Girl From Arizona, the French company's first American film produced at their new studio in Bound Brook, New Jersey. She then worked at Lubin Studios and several other of the independents until the Crystal Film Company in Manhattan, gave her top billing in numerous short films.
Having gained some degree of public recognition, in 1914 the Pathé director Louis J. Gasnier (1875-1963) offered Pearl White the starring role in The Perils of Pauline, a film based on a story by playwright, Charles W. Goddard (1879-1951). The film was not about a helpless woman, but one where "Pauline" was the central character in a story involving considerable action, to which the athletic and unblinking Pearl White proved ideally suited.
The Perils of Pauline consisted of twenty episodes that enlarged upon the heroine-in-jeopardy cliffhanger style of film. An enormous box-office success, it made Pearl White a major celebrity and she was soon earning the astronomical sum of $3,000 a week. She followed this major achievement with an even bigger box-office winner, The Exploits of Elaine.
While flying airplanes, racing cars, swimming across rivers, and other assorted feats, she did four more successful serials based on the same theme. For these action-packed films, Pearl White did much of her own dangerous stunt work and as a result she suffered a number of injuries that forced her to use a stunt double in her later films.
By 1919, Pearl White was a wealthy young woman when she met and married World War I veteran Major Wallace McCutcheon, Jr., who had become an actor, director and cinematographer. However, this marriage also did not last and they divorced in 1921. Two years later White made her last American film.