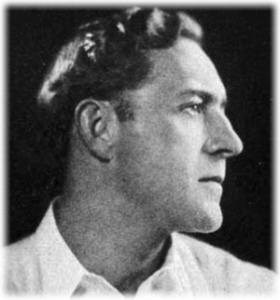 Born Edward Jenner this tall, intense English actor made his first films after coming to America. A former circus and minstrel-show performer toured on the provincial-theatre circuit as a juvenile in the early 1900s. Herbert never appeared in films in his native country; he arrived in Hollywood in 1918, appeared in a film version of Ibsen's A Doll's House (1918), and never looked homeward.
Talking pictures enabled Holmes Herbert to join such countrymen as Reginald Denny and Roland Young in portraying "typical" British gentlemen. The stately, dynamic-featured Herbert nearly always appeared in a dinner jacket, selflessly comforting the heroine as she pined for the man she really loved. He received some of his best roles in the early-talkie era; he appeared as a soft-spoken police inspector in The Thirteenth Chair (1929), then recreated the role for the 1937 remake. Herbert also appeared as Dr. Lanyon, Henry Jekyll's closest friend and confidante in the Fredric March version of Dr. Jekyll and Mr. Hyde (1931). By the '40s, many of Herbert's roles were uncredited, but he was still able to make a maximum impression with a minimum of lines in such roles as the village council head in Ghost of Frankenstein (1942). Holmes Herbert remained in films until 1952's The Brigand.
His career spanned a total of 37 years before he retired in 1952 after appearing in 228 films.