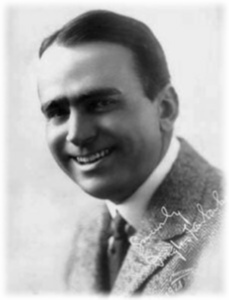 Born Douglas Elton Ullman in Denver, Colorado, the son of Hezekiah Charles Ullman (born September 1833) and Ella Adelaide Marsh (born 1850).
Douglas Fairbanks began acting on the Denver stage at an early age, doing amateur theatre. He was in summer stock at the Elitch Gardens Theatre, becoming a sensation in his teens.
He moved to New York in the early 1900s to pursue an acting career, joining the acting troupe of British actor Frederick Warde who had discovered Fairbanks performing in Denver. He worked in a hardware store and as a clerk in a Wall Street office before his Broadway debut in 1902.
Fairbanks signed a contract with Triangle Pictures in 1915 and began working under the supervision of D.W. Griffith. His athletic abilities were not appreciated by Griffith, however, and he was brought to the attention of Anita Loos and John Emerson, who wrote and directed many of his early romantic comedies.
He met actress and businesswoman Mary Pickford at a party in 1916 and they began having an affair. In 1917, they, along with Charlie Chaplin, traveled across the U.S. by train selling war bonds. Pickford and Chaplin were then the two highest paid movie stars in Hollywood. Fairbanks set up his own production company, the Douglas Fairbanks Film Corporation. Within eighteen months of his arrival, Fairbanks' popularity and business acumen raised him up to be the third highest paid. To curtail these stars' astronomical salaries, the large studios attempted to monopolize the distributors and exhibitors.
To avoid being controlled by the studios and to protect their independence, Fairbanks, Pickford, Chaplin, and D. W. Griffith formed United Artists in 1919, which created their own distributorships and gave them complete artistic control over their movies and the profits generated. The company was kept solvent in the years immediately after its formation largely from the success of Fairbanks' films.
By 1920, Fairbanks had completed twenty-nine films (twenty-eight features and one two-reel short), which showcased his ebullient screen persona and athletic ability. By 1920, he had the inspiration of staging a new type of adventure-costume picture, a genre that was then out of favor with the public. In the The Mark of Zorro, Fairbanks combined his appealing screen persona with the new adventureous, costume element. It was a smash success and parlayed the actor into the rank of superstar. For the remainder of his career in silent films, he continued to produce and star in ever more elaborate, impressive costume movies. Fairbanks spared no expense and effort in these films, which established the standard for all future swashbucking films.
During the first ceremony of its type, he and Pickford placed their hand and foot prints in wet cement at the newly opened Grauman's Chinese Theatre in Hollywood on April 30, 1927. Fairbanks was elected first President of the Motion Picture Academy of Arts and Sciences that same year, and he hosted the first Academy Awards presentation (then held as a banquet, rather than today's big ceremony). Fairbanks' also has a star on the Hollywood Walk of Fame at 7020 Hollywood Boulevard.
His last silent film was The Iron Mask (1929). Although Fairbanks flourished in the silent film genre, the restrictions of early sound films dulled his enthusiasm for movie-making. Also, his althletic abilities and general health began to decline at this time, in part due to years of heavy chain-smoking. He and Pickford chose to make their first talkie as a joint venture, playing Petruchio and Kate in Shakespeare's The Taming of the Shrew (1929). This film, and his subsequent sound films, were poorly received by the public. The last movie he acted in was the British production The Private Life of Don Juan (1934), after which he retired from acting.