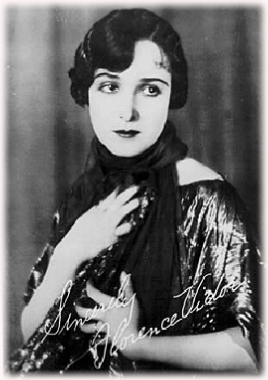 Florence Vidor was an American actress.
Born Florence Arto, her father, J.P. Arto, was an important executive and she started working in silent movies thanks to her husband, the director King Vidor.
She signed her first contract with Vitagraph in 1916. The first of Florence's film roles to attract attention was the tragic seamstress in Fox's 1917 production of A Tale of Two Cities. She was next cast as leading lady opposite Sessue Hayakawa in Hashimura Togo (1917). Within a year she was starring for Cecil B. DeMille, but didn't like the director all that much and went to work for her husband, who opened his own studio in 1919. By the time the Vidors were divorced in 1923, King had risen to the top of the directorial ladder, while Florence Vidor had become a major star in films like Alice Adams (1923). Her best-known silent films include Lubitsch's The Marriage Circle (1924) and the highly romanticized Revolutionary War melodrama Barbara Frietchie (1924). Florence's first talkie, Chinatown Nights (1929), was also her last film.