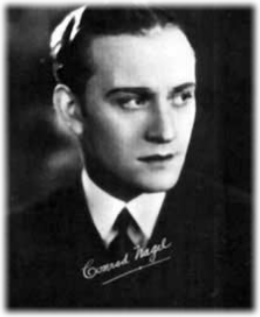 In 1914 Conrad Nagel began acting professionally onstage. He broke into films in 1918 and soon became one of the top (and most suave) matinee idols of the silent screen. Nagel was immediately cast in film roles that cemented his unspoiled lover image. His first film was the 1918 retelling of the Louisa May Alcott classic, Little Women, which quickly captured the public's attention and set Nagel on a path to silent film stardom. His breakout role came in the 1920 film, The Fighting Chance, opposite Swedish starlet Anna Q. Nilsson.
On May 11, 1927, Nagel was among 35 other film industry insiders to found the Academy of Motion Picture Arts and Sciences (AMPAS); a professional honorary organization dedicated to the advancement of the arts and sciences of motion pictures. Fellow actors involved in the founding included: Mary Pickford, Douglas Fairbanks, Richard Barthelmess, Jack Holt, Milton Sills, and Harold Lloyd. He served as president of the organization from 1932 to 1933. He was also a founding member of the Screen Actors Guild (SAG).
After an extremely busy career in silents, he starred in one of the first talkies, Glorious Betsy (1928); his voice and performance were impressive, and he was thereafter much in demand for sound films. Unlike so many silent films stars of the Roaring Twenties, Conrad Nagel had little difficulty transitioning to talkies and spent the next several decades being very well received in high profile films as a character actor. He was also frequently heard on radio and made many notable appearances on television.
He directed one film, Love Takes Flight (1937). Nagel remained intermittently busy as a screen actor until 1940, after which he appeared in only a handful of additional films. He starred on both radio and Broadway in the '40s.
In 1947 he was awarded a special Oscar for his work on the Motion Picture Relief Fund. He hosted the TV drama anthology series "The Silver Theater" (having long hosted its earlier radio incarnation) and was the MC of the TV quiz show "Celebrity Time."
He was the host of the 3rd Academy Awards ceremony held on November 5, 1930, the 5th Academy Awards on November 18, 1932, and a co-host with Bob Hope at the 25th Academy Awards ceremony on March 19, 1953. The 21-year gap between his appearances in 1932 and 1953 is a record for an Oscar ceremonies host. He was also host of the 1930 Emmy Awards.