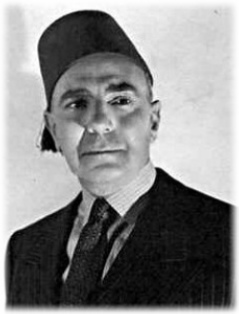 George Zucco was born in Manchester, England to a merchant father of Greek descent and a mother who was a former lady-in-waiting to Queen Victoria.
He debuted on the Canadian stage in 1908. He and his wife Frances toured the American vaudeville circuit during the 1910s, their satirical sketch about suffragettes earning them renown. He returned to Britain and became a leading stage actor of the 1920s, and made his film debut in 1931, playing Jacques Marie Eugène Godefroy Cavaignac in The Dreyfus Case, an early British re-telling of the Dreyfus Affair.
Zucco moved to the U.S.A. in 1935 to play Benjamin Disraeli alongside Helen Hayes in Victoria Regina, and appeared with Gary Cooper and George Raft in Souls at Sea (1937). His best known film role was that of Professor Moriarty in The Adventures of Sherlock Holmes (1939), opposite Basil Rathbone as Sherlock Holmes.
During the 1940s, he took every role he was offered, landing himself in B-movies and Universal horror films, including The Mummy's Hand (1940), The Mummy's Tomb (1942), The Mad Ghoul (1943), The Mummy's Ghost (1944), House of Frankenstein (1944), and Tarzan and the Mermaids (1948). He was reunited with Basil Rathbone in another Sherlock Holmes adventure, Sherlock Holmes in Washington, this time playing not Moriarty, but a Nazi spy.
He retired after playing a bit part in David and Bathsheba in 1951 due to illness.
He appeared in 96 films during a career spanning two decades, from 1931 to 1951.