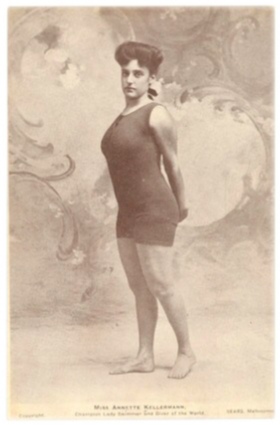 Annette Kellerman was an Australian professional swimmer, vaudeville and film star, writer, and advocate for the change of women's swimwear.
Annette Kellermann was born in Marrickville, Sydney on the 6th of July 1886, to Australian-born Frederick William Kellermann, a violinist, and his French wife Alice Ellen, née Charbonnet, a pianist and music teacher.
At the age of 6, a weakness in Kellermann's legs necessitated the wearing of painful steel braces to strengthen them. In order to further overcome her disability, her parents enrolled her in swim classes at Cavill's baths in Sydney. By the age of 13, her legs were practically normal, and by 15, she had mastered all the swimming strokes and won her first race. At this time she was also giving diving displays.
In 1902, Kellermann decided to take her swimming seriously and subsequently won the ladies' 100 yards and mile championships of New South Wales in the record times of 1 minute, 22 seconds and 33 minutes, 49 seconds respectively. In that same year, her parents decided to move to Melbourne, and she was enrolled at Mentone Girls' Grammar School where her mother had accepted a music teaching position.
During her time at school, Kellermann gave exhibitions of swimming and diving at the main Melbourne baths, performed a mermaid act at Princes Court entertainment centre and did two shows a day swimming with fish in a glass tank at the Exhibition Aquarium. In June-July 1903 she performed in the Coogee scene of Bland Holt's spectacular, The Breaking of the Drought, at the Theatre Royal.
She is often credited for inventing the sport of synchronised swimming after her 1907 performance of the first water ballet in a glass tank at the Hippodrome in New York City.
In 1916, Kellermann became the first major actress to do a nude scene when she appeared fully nude in A Daughter of the Gods. Made by Fox Film Corporation, Daughter of the Gods was the first million-dollar film production. As with many of Annette Kellerman's films, this is now considered a lost film and no copies are known to exist.
The majority of Kellerman's films were aquatic adventure in theme. She performed her own stunts including diving from ninety-two feet into the sea and sixty feet into a pool of crocodiles. Many times she would play mermaids named Annette or variations of her own name. Her "fairy tale films" as she called them started with the 1911 film The Mermaid. With this film, she became the first actress to wear a swimmable mermaid costume on film, paving the way for future screen sirens such as Glynis Johns, Ann Blyth, and Daryl Hannah. She designed her own mermaid swimming costumes and sometimes made them herself. Similar designs are still used by The Weeki Wachee Springs Mermaids including her aquatic fairy costume first introduced in her 1918 film Queen of the Sea. In 2006 the aquatic costume company MermaidFX created and sold mermaid costumes based on Annette's original designs. The company also holds a large private collection of footage, photos and other memorabilia relating to her film career.
Kellerman appeared in one of the last films made in Prizma Color, Venus of the South Seas (1924), a U. S./New Zealand co-production where one reel of the 55-minute film was in color and underwater. Venus of the South Seas, restored by the Library of Congress in 2004, is the only feature film starring Annette Kellerman known to exist in its complete form.