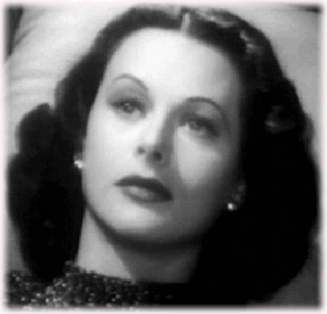 Hedy Lamarr was an Austrian-born American actress and communications technology innovator. Though known primarily for her great beauty and her successful film career, she also co-invented the first form of spread spectrum, a key to modern wireless communication.
Lamarr was born as Hedwig Eva Maria Kiesler in Vienna, Austria. While married to her first husband, Friedrich Mandl, aka Fritz Mandl Budde, an arms manufacturer, she became educated technically in her husband's business. Mandl was 13 years older than Lamarr.
After her flight from Mandl, she met Louis B. Mayer in London. After he hired her, at his insistence she changed her name to Hedy Lamarr, choosing the surname in homage to a famously beautiful film star of the silent era, Barbara LaMarr, who had died of a drug overdose in 1926.
Lamarr had already appeared in several European films, including Ecstasy (1933), A Czech film, in which she played a love-hungry young wife of an indifferent old husband. Closeups of her face in orgasm, and long shots of her running nude through the woods, gave the film notoriety. Mandl bought up as many copies of the film as he could possibly find, as he objected to her nudity, as well as "the expression on her face."
In Hollywood, she was usually cast as glamorous and seductive. Her many films include Algiers (1938), White Cargo (1942), and Tortilla Flat (1942), based on the novel by John Steinbeck. In 1941 she was cast alongside two other Hollywood beauties, Lana Turner and Judy Garland in the musical extravaganza Ziegfeld Girl.
Her biggest success came as Delilah in Cecil B. DeMille's Samson and Delilah (1949) with Victor Mature as the Biblical strongman. Samson and Delilah was the highest-grossing film of 1949.