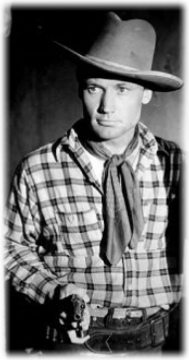 Born David Poole Fronabarger, in Big Spring, Texas, Dave O'Brien started his film career in bit parts before gradually winning larger roles, mostly in 'B' pictures.
He became familiar to movie audiences in the 1940's as the hero of the famous comedy short film series narrated by Pete Smith at the MGM studios. O'Brien wrote and directed many of these subjects under the name David Barclay.
He also appeared in many low-budget westerns,often billed as 'Tex' O'Brien, alluding to his home state. PRC itself was at the very bottom rung of Hollywood, yet O'Brien happily worked throughout the war years (he was classified 4F for the draft) there in both it's ultra low-budget "Billy the Kid" westerns, starring an increasingly disgruntled Buster Crabbe and in all 22 of it's marginally better Texas Ranger entries, some starring Tex Ritter. He took time out to appear in Columbia's Captain Midnight (1942) serial and became wildly popular with kids.
To modern audiences, he is most likely best to be remembered as a frantic dope addict in the notoriously dated low-budget exploitation film Reefer Madness,made in 1936, yelling "play it faster,play it faster!!" to a piano-playing girl in possibly the film's most hilarious scene.
One of his later roles was in the film musical version of Kiss Me, Kate (1953),a rare featured role for the actor in an 'A' list big budget production.