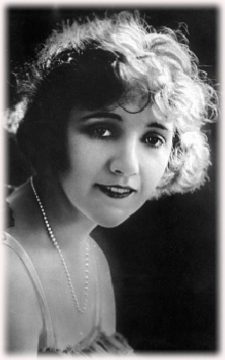 Constance Talmadge was a silent movie star born in Brooklyn, New York, USA, and was the sister of fellow actresses Norma Talmadge and Natalie Talmadge.
Constance Talmadge, one of Hollywood's most popular comediennes, was a beautiful girl with a great sense of humor who gained the pinnacle of stardom despite inexperience. She achieved film immortality as the 'Mountain Girl' of ancient Babylon in D. W. Griffith's Intolerance. She made 84 films from 1914 to 1929, and when sound technology arrested the industry, had the courage to end her film career, turning down offers from the studios that profited from her efforts and walked away from their cameras forever.
She began making films in 1914, in a Vitagraph comedy short, In Bridal Attire (1914). Constance's first major role was as The Mountain Girl and Marguerite de Valois in D.W. Griffith's masterpiece Intolerance (1916).
Griffith re-edited Intolerance repeatedly after its initial release, and even shot new scenes long after it was in distribution. Grace Kingsley found Constance in her dressing room at the Fine Arts Studio, in Los Angeles, in the midst of making up for some new shots.
"Did you really drive those galloping brutes of horses?" asked Miss Kingsley.
"Indeed I did," stated Constance. "Two women sat behind me at the Auditorium the other night. They said, 'Of course she never really drove those horses herself. Somebody doubled for her.' Know what I did? I turned around and told them, 'I wish I could show you my knees, all black and blue even yet from being cracked up against the dashboard of that chariot!"
So popular was her portrayal of the tomboyish "Mountain Girl", Griffith released in 1919 the Babylonian sequence from Intolerance as a new, separate film called The Fall of Babylon. He refilmed her death scene to allow for a happy ending.
Smart and brunette, and like her sisters pretty, over the course of her career she appeared in more than eighty films, often in comedies, like A Pair of Silk Stockings (1918), Happiness a la Mode (1919), Romance and Arabella (1919), Wedding Bells (1921) and The Primitive Lover (1922).
She, along with her sisters, was heavily billed during her early career. By her Blue Book of the Screen bio, from 1923, Constance was "5'5" tall, 120 lbs, with blonde hair and brown eyes, was an outdoor girl who loved activities".
When Constance was asked by a writer for Green Book Magazine what sort of stories she wanted to do in 1920 she said: "Although no less than sixty manuscripts are submitted to me every week, it is exceedingly difficult to get exactly the kind of comedy I especially want. I want comedies of manners, comedies that are funny because they delight one's sense of what is ridiculously human in the way of little everyday commonplace foibles and frailties – subtle comedies, not comedies of the slap stick variety."
"I enjoy making people laugh," she explained. "Secondly, because this type of work comes easiest and most naturally to me, I am not a highly emotional type. My sister could cry real tears over two sofa cushions stuffed into a long dress and white lace cap, to look like a dead baby, and she would do it so convincingly that 900 persons out front would weep with her. That is real art, but my kind of talent would lead me to bounce that padded baby up and down on my knee with absurd grimaces that would make the same 900 roar with laughter."
"You see, in my way, I take my work quite as seriously as my sister does hers – I would be just as in earnest about making the baby seem ridiculous as she would about making it seem real. I am not fitted to be a vamp type. There is nothing alluring, or exotic, or erotic, or neurotic about me. I could not pull the vamp stuff to save my life, but if I am assigned a vamp role in a comedy, and I had such a part in my fourth First National picture, In Search of a Sinner. I play it with all the seriousness and earnestness and sincerity with which a real vamp would play it, except that I, of course, over-emphasize all the characteristics of the vampire. I try to handle a comedy role much the same way that a cartoonist handles his pencils. If he is drawing the picture of the late Theodore Roosevelt, with a few strokes he emphasizes Teddy's eye-glasses and teeth, leaving his ears and nostrils and the lines of his face barely suggestive. One must leave a great deal to the imagination on the screen, because in the span of one short hour we sometimes have to develop a character from girlhood to womanhood through three marriages and two divorces, and perhaps travel half way round the world besides; so, like the cartoonist, I try to emphasize the salient characteristics, which, of course, in my particular work, bring out the humorous side of the person I am portraying."
With the advent of talkies around 1929, she left Hollywood.