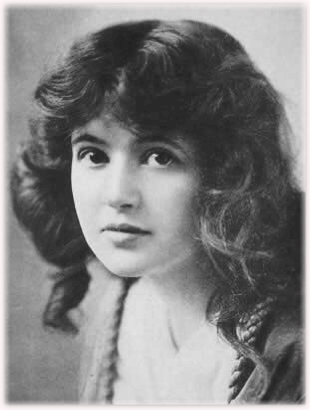 Born to a farming family in Avondale, Cincinnati, Ohio, Clark was educated at a Roman Catholic boarding school in Cincinnati. She finished school at age sixteen and having decided to pursue a career in the theatre she quickly showed herself to be a gifted actress.
After performing for only a short time, she made her Broadway debut in 1900. The seventeen-year-old went on to star at various venues, returning to perform in more than a dozen Broadway productions including a starring role with John Barrymore in the 1912 play The Affairs of Anatol. Clark's popularity led to her signing a contract in 1914 to make motion pictures with Famous Players-Lasky Corporation.
At age thirty-one it was relatively late in life for a film actress to begin a career with starring roles but the diminutive Clark, who stood 4 ft 10 in (1.47 m) tall, had a little-girl look that belied her years. She made her first appearance on screen in the short film Wildflower directed by Allan Dwan.
In 1915 she starred as "Gretchen" in a feature-length production of The Goose Girl based on a 1909 best-selling novel by Harold MacGrath. In 1915 she also performed in the feature-length production The Seven Sisters directed by Sidney Olcott and in 1916 she reprised a Broadway role, starring in the first feature-length film version of Snow White.
Clark was directed in this by J. Searle Dawley as well as in a number of films, notably when she played the characters of both "Little Eva St. Clair" and "Topsy" in the 1918 feature, Uncle Tom's Cabin. Marguerite Clark made all but one of her forty films with Famous Players-Lasky, her last with them in 1920 titled Easy to Get in which she starred opposite Harrison Ford.
Her next film in 1921 was made by her own production company for First National Pictures distribution. As one of the most popular actresses going into the 1920s, and one of the industry's best paid, her name alone was enough to ensure reasonable box office success. As such, Scrambled Wives was made "her" way following which she retired at age thirty-eight to be with her husband at their country estate in New Orleans.