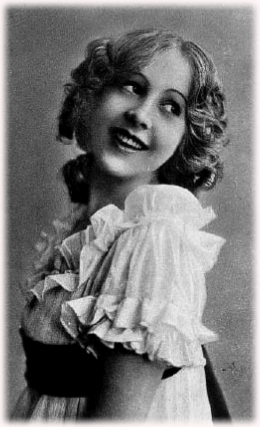 Born Florence Lavina Quick, the daughter of Minerva Grey and William Quick. Barely out of school when she began her screen career, Carmen made her film debut as an extra in 1913 with the Keystone Company as Evelyn Quick. Her blonde beauty and vivacious personality soon brought her to the attention of Mack Sennett who promoted her from the extra rank to one of his stock company of players. Under Sennett's direction she appeared with Edgar Kennedy in A Life In Balance. Before abruptly leaving Keystone she appeared in The Professor's Daughter with Eddie Lyons and Their Husbands under the direction of Henry Lehrman.
In the late 1910's Carmen was Douglas Fairbanks' leading lady and star for the Fox Film Corporation. Later she left Mack Sennett's Keystone Studios under a cloud of rumors, she changed her name from Evelyn Quick to Jewel Carmen and became one of Fox's popular stars.
In 1918, upon her marriage to producer, director, and writer Roland West the actress terminated her Fox contract. As West's wife, she abandoned her film career for a long vacation and did not make another film until 1920 when she was starred by West in his production of the mystery melodrama Nobody with Kenneth Harlan and The Silver Lining with the long forgotten leading man Coit Albertson. In 1923 she returned to Fox in You Can't Get Away With It. Three years elapsed before she returned to the screen in her husband's mystery melodrama The Bat. In 1926, with the silent era about to end, Carmen retired from films.