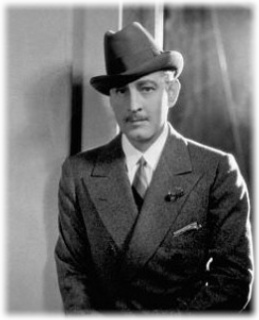 He gained fame as a stage actor, lauded for his portrayals of Hamlet and Richard III, and is frequently called the greatest actor of his generation. He was the brother of Lionel Barrymore and Ethel Barrymore, and the grandfather of Drew Barrymore.
Barrymore was born into an illustrious theatrical family. His parents were Maurice Barrymore and Georgiana Drew. His maternal grandmother was Louisa Lane Drew (aka Mrs Drew), a prominent and well respected 19th century actress and theater manager, who instilled into John, his sister Ethel & brother Lionel the ways of acting & theatre life. John's classic nose and distinguished features won him the nickname "The Great Profile."
Barrymore delivered some of the most critically acclaimed performances in theatre and cinema history and was regarded by many as the screen's greatest performer during a movie career spanning 25 years as a leading man in more than 60 films.
He specialized in trivial comedies until creating a sensation in John Galsworthy's Justice (1916). He followed this triumph up with Broadway successes in Peter Ibbetson (1917)(a role his father Maurice had wanted to play) and The Jest (1919) (co-starring his brother Lionel), reaching what seemed to be the zenith of his career as Richard III in 1920. Barrymore had a conspicuous failure in his wife Michael Strange's strange play Clair de Lune (1921), but followed it with the greatest success of his career with Hamlet in 1920 which he played on Broadway for 101 performances and then took to London in 1925.
His silent-film roles included A.J. Raffles in Raffles the Amateur Cracksman (1917), Dr. Jekyll and Mr. Hyde (1920), Sherlock Holmes (1922), Beau Brummel (1924), The Sea Beast (1926, as Captain Ahab), and Don Juan (1926). When talking pictures arrived, Barrymore's theatrically trained voice added a new dimension to his work. He made his talkie debut with a dramatic reading from Henry VI in Warner Brothers' musical revue The Show of Shows, and reprised his Captain Ahab role in Moby Dick (1930). His other leads included The Man from Blankley's (1930), Svengali (1931), Grand Hotel (1932), Dinner at Eight (1933), Topaze (1933) and Twentieth Century (1934). He worked opposite many of the screen's foremost leading ladies, including Greta Garbo, Katharine Hepburn, Joan Crawford, and Carole Lombard. In 1933, Barrymore appeared as a Jewish attorney in the title role of Counsellor-at-Law. As critic Pauline Kael later wrote, he "seems an unlikely choice for the ghetto-born lawyer...but this is one of the few screen roles that reveal his measure as an actor. His 'presence' is apparent in every scene; so are his restraint, his humor, and his zest."