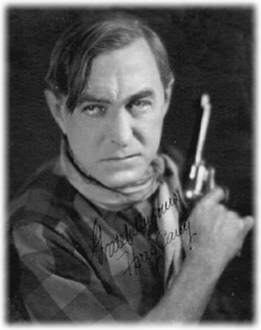 Carey was born Henry DeWitt Carey II in The Bronx, New York, the son of Ella J. Ludlum and Henry DeWitt Carey, a prominent lawyer and judge. He attended Hamilton Military Academy then studied law at New York University. After a boating accident which led to pneumonia, Carey wrote a play while recuperating and toured the country in it for three years, earning a great deal of money, all of which evaporated after his next play was a failure. In 1911, his friend Henry B. Walthall introduced him to director D.W. Griffith, for whom Carey was to make many films.
Although Carey, one of Hollywood's finest character actors of the sound era, received an Oscar nomination for his role as the President of the Senate in the 1939 film, Mr. Smith Goes to Washington, he is best remembered as one of the first stars of the Western film genre.
For his contribution to the motion picture industry, Harry Carey has a star on the Hollywood Walk of Fame at 1521 Vine Street.
As an homage to him, John Wayne held his right elbow with his left hand in the closing shot of The Searchers, imitating a stance Carey himself often used in his films.
In 1976, he was inducted into the Western Performers Hall of Fame at the National Cowboy & Western Heritage Museum in Oklahoma City, Oklahoma.