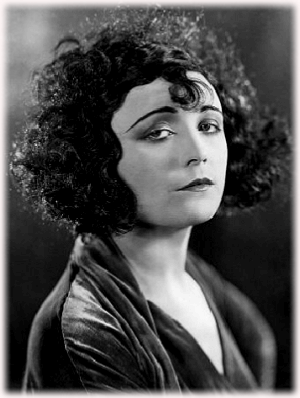 Pola Negri was a Polish film actress who achieved notoriety as a femme fatale in silent films between 1910's and 1930's.
Born Barbara Apolonia Chałupiec on New Year's Eve, circa 1894[1] in Lipno, Poland.
An only child born into a poor family, her mother had to make a living alone after Chałupiec's father was arrested by the Russians and sent to Siberia.
In 1902 both moved to Warsaw, where they lived in extreme poverty. She trained as a dancer at the Ballet School in Warsaw and performed there until tuberculosis forced her to stop dancing.
She turned to acting, and by the end of World War I had established herself as a popular stage actress in Warsaw, the capital, appearing in several films. She debuted in film in 1914 in Slave of the Senses (Niewolnica zmysłów).
During that time she adopted the pseudonym "Pola Negri," after the Italian poetess Ada Negri. She also appeared in a variety of films made by the Warsaw film industry, including The Wife (Żona), The Beast (Bestia), Students (Studenci), Street Ruffian's Lover (Kochanka apasza) and the Mysteries of Warsaw series.
In 1917 her popularity provided her with an opportunity to move to Berlin, Germany where she appeared in several films for film directors of the UFA agency, including Max Reinhardt and Ernst Lubitsch. Their films were successful throughout the world, and in 1922 both were offered contracts with Hollywood studios and the following year Negri settled in the US. Her exotic style of glamour proved popular with audiences during the 1920s and her affairs with such notable actors as Charles Chaplin and Rudolph Valentino ensured that she remained in the public eye.
One of the most popular Hollywood actresses of the era, and certainly the richest woman of the movie industry at the time, Negri lived in a palace in Los Angeles, modelled after the White House.
Negri caused a media sensation after the death in 1926 of Valentino by announcing that they had planned to marry, and following the train that carried his body from New York to Los Angeles, posing for photographers at every stop. At his funeral she "fainted" several times, and arranged for a large floral arrangement, which spelled out her name, to be placed on Valentino's coffin. Despite the wide publicity she attracted, many of Valentino's friends stated that Valentino and Negri had not intended to marry, and dismissed her actions as a publicity stunt.
Actress Tallulah Bankhead, in particular, badmouthed Negri, although others such as Mary Pickford (supportive and generous to so many troubled actresses of the time) and Valentino's brother, Alberto, defended her.
Negri's "vamp" style began to go out of vogue, and the advent of talking pictures revealed an accented voice that the public did not warm to. As Negri put it: "They went from Pola to Polaroid." Also, the Hays Code introduced in 1930 prevented Negri from using her staging techniques, for which she was so popular in Europe. The ban on "scenes of passion" and "excessive and lustful kissing" proved especially disastrous to her career in the U.S.
In 1928, Negri made her last film for Paramount Pictures entitled The Woman From Moscow, opposite actor Norman Kerry. The film was only Negri's second talkie (the first being Loves of an Actress, also released in 1928) and Paramount declined to renew her contract after audiences allegedly had difficulty discerning her dialog because of her heavy Polish accent. Negri subsequently left Hollywood later that year for Great Britain to make the 1929 drama The Way of Lost Souls (a.k.a. The Woman He Scorned).