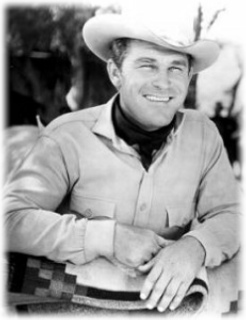 Guinn Terrell Williams Jr. made his screen debut in the 1919 comedy Almost A Husband opposite Will Rogers and Cullen Landis.
His experience as a cowboy and rodeo rider got him work as a stuntman, and he gradually worked his way up to acting. He became friends with Rogers and together they made around 15 films together.
Williams starred in his own series of silent westerns and easily made the transition from silents to talkies. Although he also starred in a series of low-budget westerns in the early and mid-1930s, he really came into his own as a supporting player in the late 1930s and early 1940s, especially at Warner Bros., where he appeared in such resoundingly successful westerns as Dodge City (1939) and Santa Fe Trail (1940) with his friends Errol Flynn and Alan Hale. Williams specialized in the somewhat dim and quick-tempered but basically decent sidekick, a role he would play for the next 20 years or so.