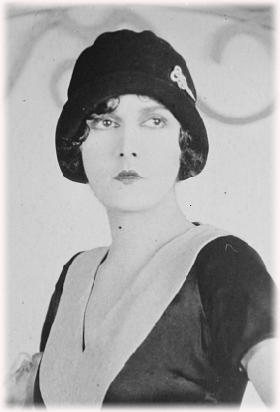 Born Mary Elizabeth Riggs in Tampa, Florida and known as Betty, she was a child of ten when her mother died, leaving her father to raise her alone. After moving to New York City as a teenager, her good looks brought modeling jobs that led to an opportunity to become involved in the still relatively new business of making motion pictures. She originally studied to be a teacher. While attending a normal school in New York she visited the World Film Studio in Fort Lee, New Jersey. Two days later she was working there as an extra making $3 a day.
She began her film career working under her own name at a New Jersey film studio then made her major debut in the 1915 silent film production of the Robert W. Service poem, The Shooting of Dan McGrew.
As Evelyn Brent, she continued to work in film, developing into a young woman whose sultry looks were much sought after. After World War I, she went to London for a vacation. The actress remained four years in England, performing in films produced by British companies. She also worked on stage there before going to Hollywood in 1922.
Mid-1920s promotional image issued by Film Booking Offices, later acquired by RKO Evelyn went on to make more than two dozen silent films including three for the noted Austrian director, Josef von Sternberg. In 1928 she starred opposite William Powell in what was her own and Paramount Studios first talkie. Brent played major roles in several more sound features, most notably The Silver Horde in 1930.