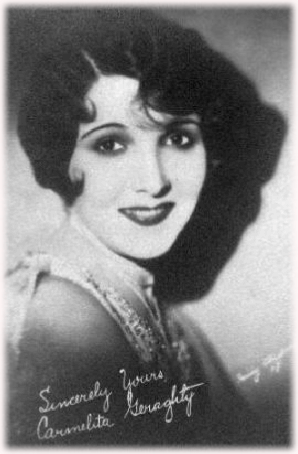 Her father was screenwriter Tom Geraghty. She was the sister of writers Maurice Geraghty and Gerard Geraghty.
Although born in Indiana she was educated mostly in New York City. She went on to be a graduate of the Hollywood High School. Though her parents wished her to stay at home, Carmelita went off to become a movie star. Her father in particular was slow approve of his daughter's new employment.
Carmelita started work out as an extra in the early 1920s, using a fictitious name until getting her big break. She was selected as one of the WAMPAS Baby Stars of 1924. Carmelita soon became a favorite leading lady for directors.
In a review of one of her first films the New York Times commented that Geraghty "gives the only performance worth mentioning. She has very pretty eyes and obviously would be able to make her acting count for something in a more dramatic vehicle."