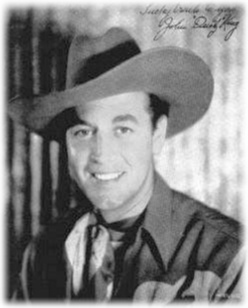 John King was born Miller McLeod Everson to Ernest and Ruth Brumfield Everson on 11 July 1909 in Cincinnati, Ohio. He attended the University of Cincinnati. Following his schooling, he held many jobs for short periods of time, stoking at a grain elevator, selling furniture, lumberjacking, inspecting meat, and bookkeeping.
At 23, he was hired as an announcer by WCKY radio in nearby Covington, Kentucky. Within a year he was hosting a musical variety show and singing on WKRC in Cincinnati. He was then hired as a vocalist with Ben Bernie's band and went to Hollywood with the band to make an appearance in Stolen Harmony (1935).
He stayed in the film capital and began to get small parts in pictures, occasionally singing. After appearing in a supporting role in one serial, King was signed by Universal for several roles and landed the lead in another serial, Ace Drummond (1936). He continued to appear in a variety of roles for Universal for the next four years.
King then signed for one of the trio of leads in a Monogram Western, The Range Busters (1940), playing a character named Dusty. He continued playing Dusty for another 18 films in the series, billing himself now as John 'Dusty' King. He sang occasionally in the series, but was never a great threat to the leading singing cowboys of the period. The series ended in 1943 and King retired from the screen three years later.