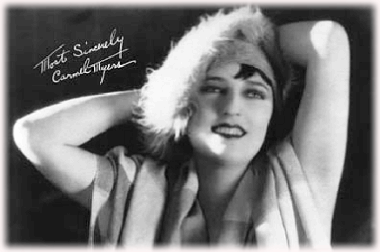 Carmel Myers was born in San Francisco, the daughter of an Australian rabbi and Austrian Jewish mother. Her father became well-connected with California's emerging film industry, and introduced her to film pioneer D.W. Griffith, who gave Myers a small part in Intolerance. Myers would also get her brother, Zion, into Hollywood as a writer/director.
From this beginning, Myers left for New York, where she acted mainly on stage for the next two years. She was soon signed by Universal, however, where she soon emerged as a popular actress in vamp roles. Her most popular film from this period is probably the romantic comedy All Night, opposite Rudolph Valentino. By 1924 she was working for MGM, making such films as Broadway After Dark, which also starred Adolphe Menjou, Norma Shearer and Anna Q. Nilsson. In 1925, she appeared in arguably her most famous role, that of the Egyptian vamp Iras in Ben-Hur, who tries to seduce both Messala (Francis X. Bushman) and Ben-Hur himself (Ramón Novarro). This film was a big boost to Myers' career, who appeared in many more major roles throughout the 1920's, including Tell It To The Marines in 1926 with Lon Chaney, Sr., William Haines and Eleanor Boardman. Myers appeared in Four Walls and Dream of Love both with Joan Crawford in 1928. Myers also appeared in 1929's Your Show Of Shows, a showcase of popular contemporary film actors.
Myers had a successful sound career, although she ended up mostly in supporting roles due to her age. Among her popular sound films is 1931's Svengali with John Barrymore.