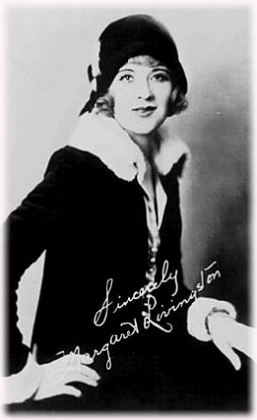 Margaret Livingston was an American motion picture actress best known today as the "Woman from the City" in F.W. Murnau's Sunrise (1927). Her name was sometimes credited as Marguerite Livingston or as Margaret Livingstone.
Livingston was born in Salt Lake City, Utah. Her older sister Ivy Livingston also became a film actress.
The actress Margaret Livingston joined the film business when she was a teenager. She made her film debut already in 1916 with "The Chain Invisible". It followed performances in "Alimony" (17), "The Busher" (19) and "Haunting Shadows" (19).
Her most successful time were in the 20's. She took part in "The Brute Master" (20), "Lying Lips" (21), "Passing Through" (21), "Eden and Return" (21), "Divorce" (23) and "The Social Buccaneer" (23).
From 1924 she became a very busy actress who was convincing in movies like "The Chorus Lady" (24), "Up the Ladder" (25), "The Wheel" (25), "After Marriage" (25), "A Trip to Chinatown" (26), "Womanpower" (26), "Slaves of Beauty" (27) "Lightning" (27), "American Beauty" (27), "Married Alive (27), "The Apache" (28), "The Last Warning" (29) and "Innocents of Paris" (29).
Her biggest succes was the classic "Sunrise" (27). The picture got a total of three Oscar, among them for the best picture.
She made over 50 films during the 'Silent Era', over 20 films after she successfully made the transition to sound film in 1929. After sound films came along, she occasionally dubbed voices for some other actresses, including Louise Brooks for The Canary Murder Case (1929).
In 1931 she married popular band leader Paul Whiteman. She made her last movies in 1934.