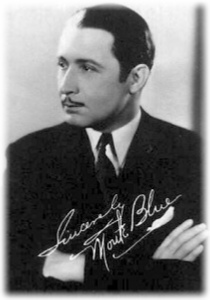 When growing up, Monte Blue built up his physique to become a football player. He not only played football, but he was also a fireman, railroad worker, coal miner, cowpuncher, ranch hand, circus rider, lumberjack, and finally, a day laborer at D.W. Griffith Studios.
In his first movie of 1915, The Birth of a Nation, he became a stuntman and an extra of the movie. In his next movie, he starred in another small part in the movie, Intolerance:Love's Struggle the ages. Gradually moving to supporting roles for both D.W. Griffith and Cecil B. DeMille, Blue earned his breakthrough role as Danton in Orphans of the Storm, starring sisters, Lillian Gish and Dorothy Gish. Then he rose to stardom as a rugged romantic lead along with top leading actresses such as Clara Bow, Gloria Swanson, and Norma Shearer. Things was looking up for one Hollywood's leading men when he became one of the few silent stars to survive the talkie revolution, when movies transformed from silent films to sound until in 1929, he lost his investment in 1929 during the stock market crash.
He rebuilt his career as a character actor, working until his retirement in 1954. One of his more memorable roles was the sheriff in Key Largo.
Monte Blue has a star on the Hollywood Walk of Fame at 6286 Hollywood Blvd.