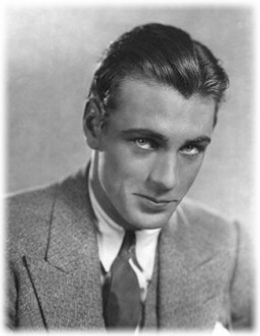 Frank James Cooper was a two-time Academy Award-winning American film actor of English heritage. His career spanned from the 1920s until the year of his death, and saw him make one hundred films. He was renowned for his quiet, understated acting style and his stoic, individualistic, emotionally restrained, but at times intense screen persona, which was particularly well suited for the many Westerns he made.
Cooper received five Oscar nominations for Best Actor, winning twice. He also received an Honorary Award from the Academy in 1961. In 1999, the American Film Institute named Cooper among the Greatest Male Stars of All Time, ranking at No. 11.
Cooper found he could earn money as an "extra" in the motion picture industry, usually cast as a cowboy; he is known to have been in an uncredited role in the 1925 Tom Mix Western, Dick Turpin. A year later, he had screen credit in a two-reeler, Lightnin' Wins, with actress Eileen Sedgewick as his leading lady. After the release of this short film, he accepted a long-term contract with Paramount Studios. He changed his name to Gary in 1925, following the advice of casting director Nan Collins, who felt it evoked the "rough, tough" nature of her native Gary, Indiana.
"Coop", as he was called by his peers, went on to appear in over 100 films. He became a major star with his first sound picture, The Virginian, in 1929. The lead in the screen adaptation of A Farewell to Arms (1932) and the title role in 1936's Mr. Deeds Goes to Town furthered his box office appeal. Cooper was producer David O. Selznick's first choice for the role of Rhett Butler in the 1939 film Gone with the Wind. When Cooper turned down the role, he was passionately against it. He is quoted as saying, "Gone with the Wind is going to be the biggest flop in Hollywood history. I'm glad it'll be Clark Gable who's falling flat on his nose, not me". Alfred Hitchcock wanted him to star in Foreign Correspondent (1940) and Saboteur (1942). Cooper later admitted he had made a "mistake" in turning down the director. For the former film, Hitchcock cast look-alike Joel McCrea instead.
In 1941, he won his first Academy Award for Best Actor for his performance as the title character in Sergeant York. Alvin York refused to authorize a movie about his life unless Gary Cooper was the actor who portrayed him.
In 1952, Cooper won his second Best Actor Academy Award for his performance as Marshal Will Kane in High Noon, considered his finest role. Hospitalized with an ulcer, he wasn't present to receive his Academy Award in February 1953. He asked John Wayne to accept it on his behalf, a bit of irony in light of Wayne's stated distaste for the film.
Cooper continued to appear in films almost to the end of his life. Among his later box office hits was his portrayal of a Quaker farmer during the Civil War in William Wyler's Friendly Persuasion in 1956. His final motion picture was a British film, The Naked Edge (1961), directed by Michael Anderson. Among his final projects was serving as narrator for an NBC documentary, The Real West, in which he helped clear up myths about famous Western figures.