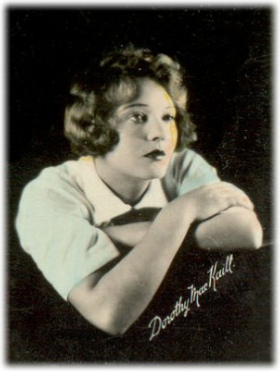 Dorothy Mackaill lived with her father after her parents separated when she was eleven. As a teenager, Mackaill ran away to London to pursue a stage career as an actress. After temporarily relocating to Paris, France she met a Broadway stage choreographer who persuaded her to move to New York City where she became involved in the Ziegfeld Follies and befriended future motion picture actresses Marion Davies and Nita Naldi.
By 1920, Mackaill had begun making the transition from "Follies girl" to motion picture actress and that year appeared in her first film, the Wilfred Noy directed mystery "The Face at the Window". Mackaill also appeared in several comedies of 1920 opposite actor Johnny Hines. In 1921 she appeared opposite Anna May Wong, Noah Beery, and Lon Chaney in the Marshall Neilan directed drama "Bits of Life". In the following years, Mackaill would appear opposite such popular actors as Richard Barthelmess, Rod La Rocque, Colleen Moore, John Barrymore, George O'Brien, Bebe Daniels, Milton Sills and Anna Q. Nilsson.
In 1924, Mackaill rose to leading lady status in the drama The Man Who Came Back, opposite rugged matinee idol George O'Brien. Her role of the nightclub chanteuse Marcelle catapulted Mackaill into a genuine Hollywood star and her career continued to flourish throughout the remainder of the 1920s. That same year she was awarded the WAMPAS Baby Stars award by the Western Association of Motion Picture Advertisers in the United States, which honored thirteen young women each year who they believed to be on the threshold of movie stardom.
She appeared in 68 films and on television from 1920 until 1980.