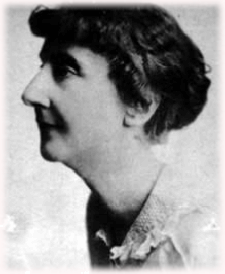 Flora Finch was an English-born film actress who starred in over 300 silent films, including over 200 for the Vitagraph Studios film company.
She was born into a music-hall and traveling theatrical family in London and was brought over to the states as a young child. She kept up the family tradition and worked in theater and vaudeville circuit right up until her 30s.
She had her first film roles at the American Mutoscope and Biograph Company starting in 1908. There she worked with Fatty Arbuckle, Mabel Normand, Mack Sennett, and Charlie Chaplin among others.
Starting in 1911 at Vitagraph, she was paired with John Bunny in wildly popular short comedies. Her first film there was Mrs. Jones Entertains (1909). After making nine more films she began appearing with rotund comic John Bunny, and together they made 260 shorts between 1910 and 1915, which were known as Bunnygraphs, Bunnyfinches, and Bunnyfinchgraphs. They became the cinema's first popular comedy team. Among their more popular titles were The New Stenographer (1911), The Subduing of Mrs. Nag (1911) and A Cure for Pokeritis (1912).