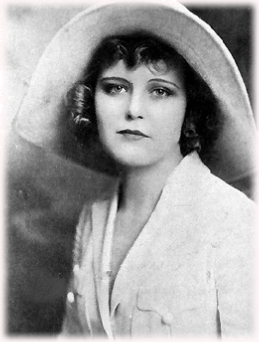 Juanita Hansen was born in Des Moines, Iowa. Her family moved to California when she was a girl and Juanita graduated from Los Angeles High School. There she secured her first acting job with L. Frank Baum's "Oz Film Manufacturing Company". She appeared in the The Patchwork Girl of Oz, a film based on Baum's book. Given a minor role as the bell ringer, Hansen had a major role in her next "Oz" film that same year titled The Magic Cloak of Oz. This was an adaptation of Queen Zixi of Ix, in which she played the title role.
Early in her career the actress was also associated with Famous Players-Lasky and acted opposite Jack Pickford. In 1915 Juanita appeared in six films. One was her first feature role starring opposite Tom Chatterton in "The Secret of the Submarine." The following year her good looks landed her work as one of the "Sennet Bathing Beauties" doing comedy shorts at Keystone/Triangle Studios. Although she told reporters she liked working for Mack Sennett, she wanted to do more than slapstick comedy.
She left Keystone. She was soon doing serious roles for Universal Studios. Miss Hansen became famous as the star of the eighteen episode action/adventure serial called "The Brass Bullet." The actress made seven films in 1919. Soon she was cast in the starring role of "Princess Elyata" in a fifteen episode serial called "The Lost City." It was produced by William Selig and the three Warner brothers, Harry, Jack, and Sam. The successful serial was edited down to seven reels and re-released in the form of a feature-length film with the title "The Jungle Princess." However, during this time, Hansen's increasingly reckless lifestyle led to a cocaine addiction that would quickly overwhelm her life.
Hansen's performance in the Universal productions led to a 1920 deal with Pathé to star with Warner Oland and William N. Bailey in a fifteen episode serial titled "The Phantom Foe." She made a second Pathé serial called "The Yellow Arm (1921)," again with Oland and Bailey plus Marguerite Courtot. In 1921 Juanita retired from movies after she was scalded in a bathroom accident in a New York City hotel. She was given $118,000 in damages following a long legal battle.