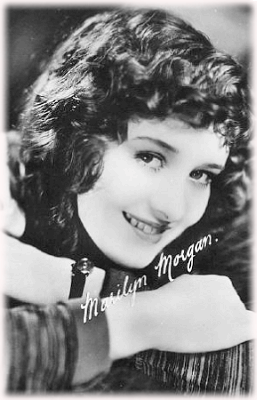 Marian Marsh was best-known for films in the 1930s such as Svengali (1931), Five Star Final (1931), and the Howard Hughes film, Hell's Angels (1930).
Violet Ethelred Krauth was born on 17 October 1913 in Trinidad, British West Indies, the youngest of four children (including her older sister, actress Jean Fenwick) of a German chocolate manufacturer and his French/English wife.
With World War I, Violet's father moved the family to Boston, Massachusetts. By the time Violet was ten, the family had relocated to California where Violet's older sister, Jean, eventually landed a job as a contract player with FBO Studios.
Violet attended La Conte Junior High School and Hollywood High School. One day in 1928, Violet was approached by silent screen actress, Nance O'Neil, who offered Violet speech and movement lessons. With Jean's help, Violet soon entered the movies. Violet, now known as Marilyn Morgan, secured a contract with Pathé where she was featured in many short subjects under the name Marilyn Morgan. Soon she was seen in a small role in Howard Hughes' classic "Hell's Angels", as well as a role in Eddie Cantor's lavish, Technicolor musical "Whoopee". Not long after, she was signed by Warner Bros. and changed her name to Marian Marsh.
In early 1931, at age 17, she landed one of her most important roles in Svengali opposite John Barrymore. Marsh was chosen by Barrymore, himself, for the leading lady role of "Trilby". He coached Marsh's performance throughout the pictures' filming. "Svengali" was based on the 1894 gothic horror novel "Trilby" written by George du Maurier. A popular play, likewise entitled "Trilby", followed one year later in 1895. In the film version of the story, which Warner Bros. had renamed "Svengali", Marsh plays the artists' model, "Trilby", who is transformed into a great opera star by the sinister hypnotist, Svengali (Barrymore). (The word "Svengali'" has since entered the English language, meaning a person who, with sometimes evil intent, tries to persuade another to do what he desires.)
She was selected as one of the WAMPAS Baby Stars of 1931. The critical praise and the audiences' approval of Svengali led Marsh to a string of successful films at Warner Bros. including Five Star Final (1931) with Edward G. Robinson, The Mad Genius (1931), again with John Barrymore, The Road to Singapore (1931) with William Powell and the charming Beauty and the Boss (1932) with Warren William.