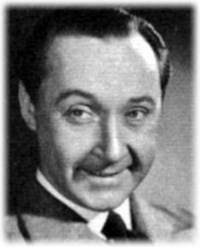 Franklin Pangborn was famous for small, but memorable roles, with a comic flair. He appeared in many Preston Sturges movies as well as the W.C. Fields films International House, The Bank Dick, and Never Give a Sucker an Even Break. For his contributions to motion pictures, Pangborn has a star on the Hollywood Walk of Fame at 1500 Vine Street.
In the early 1930s Pangborn worked in short subjects for Mack Sennett, Hal Roach, Universal Pictures, Columbia Pictures, and Pathe, almost always in support of the leading players.
Pangborn typically portrayed a fussy type of person (officious desk clerks, self-important musicians, fastidious headwaiters, enthusiastic birdwatchers, etc.). Pangborn's screen character was often considered a gay stereotype, although such a topic was too sensitive in his day to be discussed overtly in the dialogue.
Pangborn was an effective foil for many major comedians, including Fields, Harold Lloyd, Olsen and Johnson, and The Ritz Brothers. He appeared regularly in comedies and musicals of the 1940s.
When movie roles became scarce, he worked in television, including a Red Skelton show (in which he played a murderous bandit!) and a This Is Your Life tribute to his old boss, Mack Sennett. For a time Pangborn was the announcer on Jack Paar's Tonight Show.