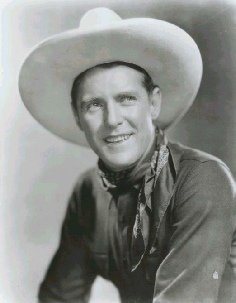 Kenneth Olin Maynard was an American motion picture stuntman and actor.
Born in Vevay, Indiana, of five children, another of whom, his younger brother, Kermit, would become an actor too. Ken Maynard began working at carnivals and circuses, where he became an accomplished horseman. As a young man, he performed in rodeos and was a trick rider with Buffalo Bill's Wild West Show.
He first appeared in silent motion pictures in 1923. Maynard's work included stunt performance. His horsemanship and rugged good looks made Maynard a cowboy star. He and his white stallion, "Tarzan," became famous. His two recorded songs with Columbia Records, "The Lone Star Trail" and "The Cowboy's Lament," made him one of the first of the singing cowboys. Maynard moved to Universal Studios, where he made his first films with a musical soundtrack. He sang two songs in Sons of the Saddle in 1930.
*Source wikipedia.org