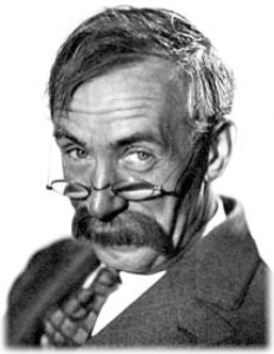 Andrew "Andy" Clyde was a movie and TV actor whose career spanned more than four decades. He broke into silent films in 1925 as a Mack Sennett comic. Clyde's mastery of makeup allowed him tremendous versatility; he could play everything from grubby young guttersnipes to old crackpot scientists.
Clyde hit upon an "old man" characterization in his short comedies, which were immediately successful. Adopting a gray wig and mustache, he used this makeup for the rest of his short-subject career, and the character was so durable that he literally grew into it. Clyde's long series of Columbia Pictures comedies began in 1934 and continued until 1956. He outlasted every comedian on the Columbia payroll except The Three Stooges.
Andy Clyde also kept busy as a character actor in feature films; for example, he played a sad provincial postman in the Katharine Hepburn film The Little Minister and Charles Coburn's drinking buddy in The Green Years. In the 1940s, he gravitated toward outdoor and western adventures. Clyde is well remembered for his roles as a comic sidekick, usually teaming with William Boyd in the Hopalong Cassidy series or with Whip Wilson in Monogram's low-budget western movies playing the character "Winks".
Clyde's last theatrical film was released in 1956, after which he worked in television, in such programs as CBS's Lassie and ABC's The Real McCoys. In the latter he was the foil of the legendary Walter Brennan, playing the role of friendly neighbor "George McMichael" to Brennan's "Grandpa Amos". The popular actress Madge Blake appeared as Clyde's fictitious sister, "Flora McMichael", a sometimes romantic interest of Brennan's "Grandpa" role. Clyde continued to perform on television until his death.
Clyde has a "star" on the Hollywood Walk of Fame.