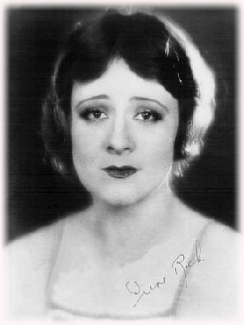 Irene Rich, born Irene Luther, was an elegant, melodramatic heroine of the silent screen.
Rich was a particular favorite of Will Rogers, who used her in eight pictures including Water Water Everywhere (1920), The Strange Boarder (1920), Jes' Call Me Jim (1920), Boys Will Be Boys (1921), and The Ropin' Fool (1921). Not a young woman when she entered pictures her attractively mature looks suited her to play experienced society women who had "Been there, done that". Her finest role of this type was in the 1925 adaption of "Lady Windermere's Fan". She played Sadie in Queen Of The Yukon
In two of her last films she played a frontier wife and mother. She was the mother of Gail Russell's character 'Penelope Worth', in John Wayne's Angel And The Bad Man as well as in John Ford's epic cavalry story Fort Apache in which she portrayed Mrs. O'Rourke, the wife of Sergeant O'Rourke (played by Ward Bond). Both strong and resilient roles that were played very believably by this experienced actress.
In the 1930s, Rich enjoyed a spectacular new career on radio. From 1933 to 1944, she hosted a nationwide anthology program of serialized mini-dramas entitled Dear John (also called The Irene Rich Show). Her leading man was actor Gale Gordon, who later played Lucille Ball's apoplectic boss "Mr. Mooney" on TV.
Rich also had some success on stage in such productions as Seven Keys to Baldpate (1935) which starred George M. Cohan and As the Girls Go in 1948.