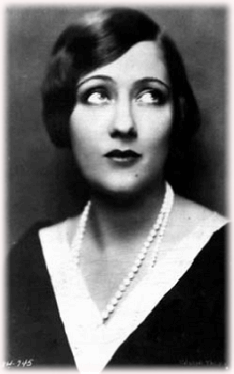 Gloria Swanson was an Academy Award-nominated, Golden Globe-winning American Hollywood actress.
She was prolific during the silent film era, but her career declined with the advent of "talkies". She is now best known for her comeback role in the film Sunset Boulevard (1950), in which—mirroring her own life—she portrayed a former silent movie star largely forgotten by audiences of the day.
Her film debut was in 1914 as an extra in The Song of Soul for Chicago's Essanay Studios. While on a tour of the studio, a young Gloria asked to be in the movie just for fun. Guessing her acting quality, Essanay hired her to feature in several movies, including His New Job, directed by and starring Charlie Chaplin.
Swanson moved to California in 1916 to appear in Mack Sennett's Keystone comedies opposite Bobby Vernon including Teddy at the Throttle, and in 1919 she signed with Paramount Pictures and worked often with Cecil B. DeMille, who turned her into a romantic lead in such films as Don't Change Your Husband, Male and Female, The Affairs of Anatol, and Why Change Your Wife? Swanson later appeared in a series of films directed by Sam Wood. She starred in Beyond the Rocks (1922) with Rudolph Valentino.
In her heyday, audiences went to her films not only for her emotional portrayals in lurid romances, but to see her wardrobe. Frequently ornamented with beads, jewels, peacock and ostrich feathers, haute couture of the day or extravagant period pieces, one would hardly suspect that Gloria was barely five feet (1.52 m) tall.
In 1925, she starred in the first French-American coproduction, Madame Sans-Gêne directed by Léonce Perret. During the production of this film, she met her third husband Henry de la Falaise, Marquis de la Falaise, who was originally hired to be her translator during the film's production.
She was nominated for an Academy Award for Best Actress for her performance as the title character in the 1928 film Sadie Thompson, costarring and directed by Raoul Walsh, based on Somerset Maugham's short story "Miss Thompson," later called "Rain" (the story was re-filmed under this title in 1932, starring Joan Crawford and directed by Lewis Milestone). Her first independent production The Love of Sunya, in which she costarred with John Boles and Pauline Garon, opened the Roxy Theater in New York City on March 11, 1927.
Swanson's unfinished film Queen Kelly (1929) was directed by Erich von Stroheim and produced by Joseph P. Kennedy, Sr., father of future President John F. Kennedy.
Swanson ultimately made talkies, even singing in The Trespasser (1929) directed by Edmund Goulding, Indiscreet (1931), and Music in the Air (1934). Even though she managed to make the transition into talkies, her career began to decline.