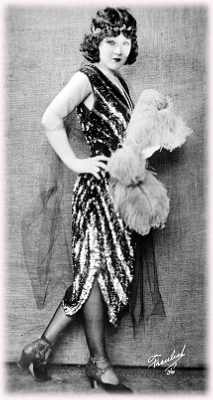 Marie Prevost was a Canadian-born actress of the early days of cinema.
Born Mary Bickford Dunn in Sarnia, Ontario, when she was still a child her family moved first to Denver, Colorado and then later to Los Angeles, California. While working as a secretary, she applied and obtained an acting job at the Hollywood studio owned by Mack Sennett. Himself from a small Canadian town outside of Montreal, Sennett dubbed her as the exotic French girl, adding Mary Dunn to his collection of bathing beauties under the stage name of Marie Prevost.
One of her first publicly successful film roles came in the 1920 romantic film Love, Honor, and Behave opposite another newcomer and Sennett protegé, George O'Hara. Initially cast in numerous minor comedic roles as the sexy, innocent young girl, she worked in several films for Sennett's studio until 1921 when she signed with Universal Studios. At Universal, Marie Prevost was still relegated to light comedies and after making only eight films she left to sign with Warner Brothers in 1922.
It was there that she got her first big break appearing in a standout role in the F. Scott Fitzgerald story, The Beautiful and Damned. Her performance brought good reviews and director Ernst Lubitsch chose her for a major role opposite Adolphe Menjou in 1924's The Marriage Circle. Of her performance as the beautiful seductress, Ernst Lubitsch said that she was one of the few actresses in Hollywood who knew how to underplay comedy to achieve the maximum effect.
This impressive performance, praised by The New York Times, resulted in Lubitsch casting her in Three Women in 1924 and in Kiss Me Again the following year.