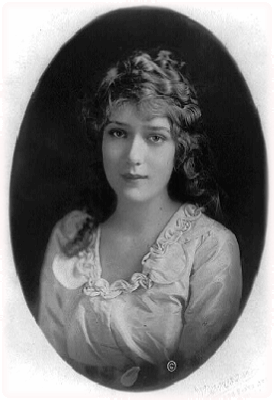 Mary Pickford was an Oscar-winning Canadian motion picture star and co-founder of United Artists in 1919. She was known as "America's Sweetheart," "Little Mary" and "the girl with the curls." She was one of the first Canadian pioneers in early Hollywood and one of film's greatest pioneers. Her influence in the development of film acting was enormous. Because her international fame was triggered by moving images, she is a watershed figure in the history of modern celebrity. And as one of silent film's most important performers and producers, her contract demands were central to shaping the Hollywood industry.
The American Film Institute named Pickford 24th among the greatest female stars of all time.
Mary Pickford was born Gladys Louise Smith in Toronto, Ontario, Canada. Her father, John Charles Smith, was the son of British Methodist immigrants, and worked a variety of odd jobs. Her mother, Charlotte Hennessy, was from an Irish Catholic family. She had two younger siblings, Jack and Lottie Pickford, who would also become actors.
By late 1900, acting had become a family enterprise, as Pickford, her mother and two younger siblings toured the United States by rail in third-rate companies and plays. After six impoverished years, Pickford gave herself a single summer to land a leading role on Broadway, planning to quit acting if she failed. She landed a supporting role in a 1907 Broadway play, The Warrens of Virginia. The play was written by William C. DeMille, whose brother, the then-unknown Cecil B. DeMille, also appeared in the cast. David Belasco, the producer of the play, insisted that Gladys Smith assume the stage name Mary Pickford.
On April 19, 1909, the Biograph Company director D. W. Griffith screen-tested her at the company's New York studio for a role in the nickelodeon film Pippa Passes. The role went to someone else, but Griffith was immediately taken with Pickford, who instinctively grasped that movie acting was simpler and more intimate than the stylized stage acting of the day. Most Biograph actors earned $5 a day, but after a single day in the studio, Griffith agreed to pay Pickford $10 a day against a guarantee of $40 a week. Like everyone at Biograph, Pickford played both bit parts and leading roles, playing mothers, ingenues, spurned women, spitfires, slaves, native Americans, and a prostitute. As Pickford said of her whirlwind success at Biograph: "I played scrubwomen and secretaries and women of all nationalities... I decided that if I could get into as many pictures as possible, I'd become known, and there would be a demand for my work." In 1909, Pickford appeared in 51 films — almost one a week.
In January 1910 she traveled with a Biograph crew to Los Angeles. Many other companies wintered on the West Coast, escaping the weak light and short days that hampered winter shooting in the East. Pickford added to her 1909 Biographs with films from California. Like the other players in Griffith's company, her name was not listed in the credits, but Pickford had been noticed by audiences within weeks of her first film appearance. In turn, exhibitors capitalized on her popularity by advertising on sandwich boards outside their nickelodeons that a film featuring "The Girl with the Golden Curls," "Blondilocks" or "The Biograph Girl" was inside. Pickford left Biograph in December 1910, and spent 1911 with the Independent Motion Picture Company (later Universal Studios) and Majestic. Unhappy with their creative standards, she returned to work with Griffith in 1912. She made her last Biograph, The New York Hat, then starred on Broadway in the David Belasco production of A Good Little Devil. The experience was the major turning point in her career; Pickford, who had always hoped to conquer the Broadway stage, discovered she missed movie acting. In 1913 she decided to turn her energies exclusively toward film. In the same year, Adolph Zukor formed Famous Players in Famous Plays (later Paramount), one of the first American feature film companies. Pickford left the stage to join his roster of stars. She instantly attracted a following, appearing in such comedy-dramas as In the Bishop's Carriage (1913) and Hearts Adrift (1914). Her appearance as a tomboyish guttersnipe in 1914's Tess of the Storm Country sent her fame into the stratosphere. Pickford's effect in this and similar roles was summed up by Photoplay: "luminous tenderness in a steel band of gutter ferocity."
Pickford earned the right not only to act in her own movies, but to produce them and (through the creation of United Artists) control their distribution. She was also the first actress to receive more than a million dollars per year. Pickford starred in 52 features.