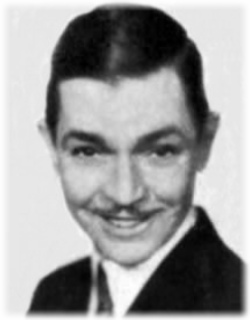 Born in Scottdale, Pennsylvania, Johnny Arthur was a veteran of twenty-five years on stage before he made his screen debut in 1923's The Unknown Purple. Arthur's screen personality was nebulous enough to allow him to play the romantic lead in the Lon Chaney vehicle The Monster (1925).
With the coming of sound, Arthur developed his first comedic image, a limp-wristed, ultra-effeminate "Nancy Boy" in films such as The Desert Song and Penrod and Sam. When the Production Code took effect on July 1, 1934, the "pansy" characters played by Arthur were banned from all Hollywood movies. He spent the rest of the 1930s playing fussy, long-suffering wimps, albeit certifiably "masculine roles". This new character served him well in low budget films like The Ghost Walks, The Natzy Nuisance and Danger on the Air, as well as big budget pictures like Crime and Punishment and Road to Singapore.
Arthur is perhaps most remembered for his appearances as Darla Hood's father in Hal Roach's Our Gang shorts. Most of his later roles were unbilled bits, with the notable exception of the 1942 serial The Masked Marvel.