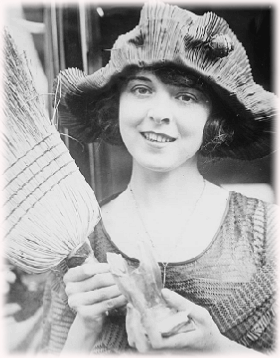 Colleen Moore was an American film actress, and one of the most fashionable stars of the silent film era.
Born Kathleen Morrison in Port Huron, Michigan, Moore made her first film appearance in 1918 and for the next few years appeared in small, supporting roles gradually attracting the attention of the public. She was named as a WAMPAS Baby Star in 1922 in recognition of her growing popularity. Moore has credited her uncle, Walter Howey with setting up her introduction into films. Howey was an important newspaper editor in the publishing empire of William Randolph Hearst, and he was the inspiration for Walter Burns, the fictional Chicago newspaper editor in the play and the film The Front Page.
Her first major success was the 1923 film Flaming Youth opposite actor Milton Sills. Moore's vivacious flapper caused a sensation and made her one of the most talked about actresses of her day. Moore and Louise Brooks were seen as the people who epitomized the young adult society of their day, they also shared the same hairstyle. Moore's career grew over the next few years. As she continued to play similar characters in successful films such as Flirting With Love and The Perfect Flapper, Moore's bobbed hairstyle was widely copied throughout the world. By the late 1920s she had progressed to more important roles in films such as So Big and was also well received in light comedies such as Irene. Fortunately for Colleen, the cameras didn't pick up that she had one brown eye and one blue one.