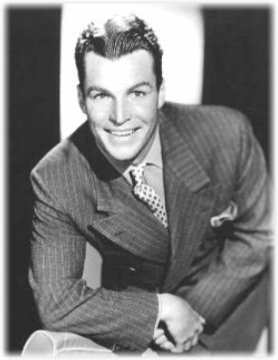 Buster Crabbe was born as Clarence Linden Crabbe II to Lucy Agnes McNamara (1885-1959) and Edward Clinton Simmons Crabbe I (1882-?) in Oakland, California.
Raised in Hawaii, he graduated from Punahou School in Honolulu. He excelled as a swimmer and participated in two Olympic Games: 1928, where he won the bronze medal for the 1,500 meter freestyle, and 1932, where he won the gold medal for the 400 meter freestyle.
He attended the University of Southern California, where he was the school's first All-American swimmer (1931) and a 1931 NCAA freestyle titlist. He also became a member of the Sigma Chi Fraternity before graduating from USC in 1931. In 1933 he married his college sweetheart Adah Virginia Held, and gave himself one year to either make it as an actor or start law school at USC. Buster and Virginia remained together until Buster's death in 1983. They had two daughters, Sande and Susan and a son, Cullen.
Time magazine wrote on April 11, 1932: "Clarence (Buster) Crabbe, 22, of Los Angeles, ablest distance swimmer in the United States: the 1,500-metre race in the A.A.U. championships, at New Haven, lowering his own American record by 20.9 seconds to 19:45.6. Later he won two other championships: the 300 yard medley and 500 yard free style. Los Angeles won the team championship with 45 points to New York's 37."
Crabbe's role in the 1933 Tarzan serial Tarzan the Fearless launched a successful career in which he starred in over one hundred movies. It would be the only movie in which Crabbe starred as Tarzan. In the 1933's King of the Jungle, 1941's Jungle Man, and the 1952 serial King of the Congo he played generic "jungle man" roles in the Tarzan mode. He also starred in the first international film "Search for Beauty" in 1934, and his next major role was in 1936 as Flash Gordon in the popular Flash Gordon serial, which he reprised in two sequels, released by Universal in 1938 and 1940). Other characters he portrayed included Western hero Billy the Kid, Buck Rogers, and a brother of his real-life fraternity in the movie musical The Sweetheart of Sigma Chi. In some of his movies he is credited as Larry Crabbe. His sidekick in most of his westerns was the actor Al St. John.
Crabbe starred in the television series, Captain Gallant of the Foreign Legion (1955 to 1957) as Captain Michael Gallant; the adventure series aired on NBC. His real-life son, Cullen Crabbe, appeared in this show as the character "Cuffy Sanders".
Crabbe made regular television appearances, including one on an episode of the 1979 series Buck Rogers in the 25th Century, where he played a retired fighter pilot named "Brigadier Gordon" in honor of Flash Gordon. When Rogers (Gil Gerard) praises his flying, Gordon replies "I've been doing that sort of thing since before you were born." Rogers (who was born over 500 years earlier) responds "You think so?" to which Gordon replies "Young man, I know so!" Crabbe had, in fact, been playing "hot pilots" since long before Gerard was born.