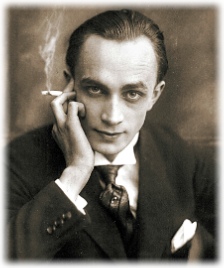 Hans Walter Conrad Veidt (22 January 1893 – 3 April 1943) was a German actor, born in Berlin, best remembered for his roles in films such as The Cabinet of Dr. Caligari (1919), The Man Who Laughs (1928), The Thief of Bagdad (1940) and Casablanca (1942). After a successful career in German silent film, where he was one of the best paid stars of Ufa, he left Germany in 1933 with his new Jewish wife and settled in the United Kingdom, where he participated in a number of films before continuing to the United States around 1941.
In 1914, Veidt met actress Lucie Mannheim, with whom he began a relationship. Later in the year Veidt was drafted into the German Army during World War I. In 1915, Veidt was sent to the Eastern Front as a noncommissioned officer and took part in the Battle of Warsaw. He contracted jaundice and pneumonia, and had to be evacuated to a hospital on the Baltic Sea. While recuperating, he received a letter from Mannheim informing him that she had found work at a theater in Libau. Intrigued, Veidt applied for the theater as well. As his condition had not improved, the army allowed him to join the theater so that he could entertain the troops. While performing at the theater his relationship with Mannheim ended. In late 1916, he was reexamined by the Army and deemed unfit for service and given a full discharge in January 1917. Veidt then returned to Berlin to pursue his acting career.
From 1916 until his death, he appeared in well over 100 films. He appeared in two of the best-known films of the silent era: as the murderous somnambulist Cesare in director Robert Wiene's The Cabinet of Dr. Caligari (1920) with Werner Krauss and Lil Dagover and as a disfigured circus performer in The Man Who Laughs (1928). Veidt also starred in other classic silent horror films such as The Hands of Orlac in 1924 (again directed by Robert Wiene), The Student of Prague in 1926 and Waxworks in 1924 where he played Ivan the Terrible.