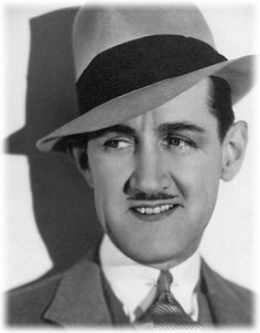 Charley Chase was an American comedian, screenwriter and film director, best known for his work in Hal Roach short film comedies. He was the older brother of comedian/director James Parrott.
Born Charles Joseph Parrott in Baltimore, Maryland, Chase started his career in films by working at the Christie Comedies in 1912. He then moved to Keystone Studios, where he began appearing in bit parts in the Mack Sennett films, including those of Charlie Chaplin. By 1915 he was playing juvenile leads in the Keystones, and directing some of the films as "Charles Parrott." His Keystone credentials were good enough to get him steady work as a comedy director with other companies; he directed many of Chaplin imitator Billy West's comedies, which featured a young Oliver Hardy as villain. In 1914, he married Bebe Eltinge(25) they stayed married to each other all his life. They had two daugthers: Polly and June.
In 1920, Chase began working as a film director for Hal Roach Studios; among his notable early works for Roach was supervising the first entries in the Our Gang series. He eventually moved back in front of the camera with his own series of shorts, adopting the screen name Charley Chase.
Direction of the Chase series was soon taken over by Leo McCarey, who in collaboration with Chase formed the comic style of the series -- an emphasis on characterization and farce instead of knockabout slapstick. Chase was a master of the comedy of embarrassment, and he played either hapless young businessmen or befuddled husbands in dozens of situation comedies. His screen persona was that of a pleasant young man with a dapper mustache and ordinary street clothes; this set him apart from the clownish makeups and crazy costumes used by his contemporaries.
Chase remained the guiding hand behind the films, acting as director, writer, and, editor. However, he only began to receive director's credit, as Charles Parrott, on his own films in 1933. Some of Chase's starring shorts of the 1920s, particularly Mighty Like a Moose, Fluttering Hearts, and Limousine Love are among the finest in silent comedy.
Chase moved with ease into sound films in 1929 and continued to be quite prolific, often putting his fine singing voice on display and including his self-penned songs in his comedy shorts. Chase's The Pip from Pittsburgh (1931), co-starring Thelma Todd, is one of the most celebrated Hal Roach comedies of the 1930s. Throughout the decade, the Charley Chase shorts continued to stand alongside Laurel and Hardy and Our Gang as the core output of the Roach studio. Chase appeared on-screen with Laurel and Hardy in their 1933 feature film Sons of the Desert. But Chase had no place in producer Roach's ambitious plans to make prestigious feature films, and he was dismissed from the Roach studio in 1936.
In 1937, Chase began working at Columbia Pictures, where he spent the rest of his career starring in his own series of two-reel comedies, as well as producing and directing other Columbia comedies, including those of The Three Stooges (1938's Mutts to You and Flat Foot Stooges) and Andy Clyde. He also directed the classic Violent Is The World For Curly and penned the song "Swingin' The Alphabet," which the Stooges would perform for the remainder of their careers. Chase's own shorts at Columbia favored broader sight gags and more slapstick than his earlier, more subtle work, although he does sing in two of the Columbias, The Grand Hooter and The Big Squirt (both 1937). Many of Chase's Columbia short subjects were strong enough to be remade in the 1940s with other comedians.
For his contribution to the motion picture industry, Charley Chase has a star on the Hollywood Walk of Fame at 6630 Hollywood Boulevard.