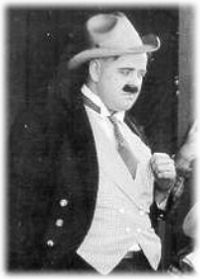 Born William Jamison in California, he entered vaudeville in his teens, and by 1915 was appearing in movies with Chaplin. Jamison's big-boned, beefy appearance -- which hid a surprising degree of agility -- and pugnacious expression made him an ideal antagonist for the lanky, diminutive Chaplin, and Jamison was one of his three favorite heavies, along with Eric Campbell and Mack Swain. He was Edna Purviance's beau in In the Park, the sinister hobo in The Tramp, and the chief bank robber in The Bank, among numerous other roles.
Jamison remained busy throughout the 1920s, barely breaking stride for the coming of sound, although in a change of pace he did appear in some serious features, including the 1930 version of Moby Dick. He continued this pattern of working in comic short subjects, interspersed with occasional full-length features (in which he usually played bit parts) for the rest of his career.
He played many memorable roles in Three Stooges shorts. Including the head of the "Woman Haters Club" in the Stooges first short at Columbia, Woman Haters in 1934.
He appeared in an astounding 451 films in his long career from 1915 until 1944.