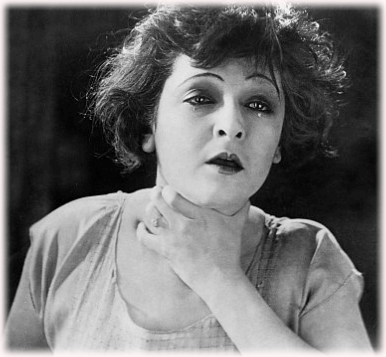 Lya De Putti was a Hungarian film actress of the silent era.
She began her stage career on the Hungarian Vaudeville circuit. She soon progressed to Berlin, where after performing in the ballet, she made her screen debut in 1918. She became the premiere danseuse at the Berlin Winter Garden in 1924.
Around that time German film director Jol Mai noticed her and cast her in her first important film, The Mistress of the World. She followed this success with noteworthy performances in Manon Lescaut and Variety. The latter, from 1925, featured her opposite Emil Jannings. Both films are Ufa productions. While in Germany De Putti starred with such actors as Conrad Veidt and was filmed by directors F.W. Murnau and Fritz Lang.
The actress came to America in February 1926. At the time she told reporters she was twenty-two years old. Her ocean liner's records list her as having been twenty-six.
De Putti was generally cast as a vamp character, and often wore her dark hair short, in a style similar to that of Louise Brooks or Colleen Moore.