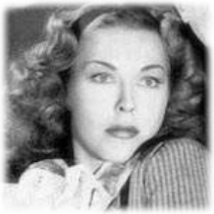 Joan Woodbury appeared in her first film, ''Eight Girls in a Boat,'' in 1933 and went on to play a wide range of roles, becoming known as Hollywood's leading lady of B movies.
She appeared in a number of "Charlie Chan" entries of the 1930s, particularly Charlie Chan on Broadway (1937) wherein she turned heads performing a very sultry dance routine. A resilient western player as well, she appeared opposite a number of cowboy heroes including William Boyd [Hopalong Cassidy], Roy Rogers and Johnny Mack Brown among others. Her her first co-starring role, in fact, came opposite sagebrush star Tim McCoy (in a dual role) in Bulldog Courage (1935). One of her finest moments in the limelight has to be her titular role in the Columbia serial Brenda Starr, Reporter (1945) in which she gave a fine, spirited performance as the intrepid heroine.
Miss Woodbury retired from films in 1963 and that year helped found the Valley Players Guild in Palm Springs, where she worked in more than 120 productions over 25 years.