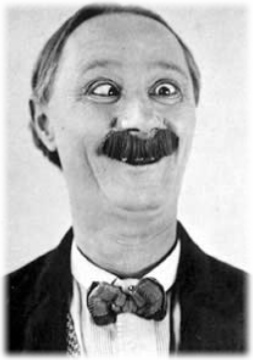 Born Bernard Turpin
Ben Turpin first appeared on film in 1907 for Essanay Studios in Chicago in various small parts and comic bits; in addition to his on-screen work Turpin worked as a janitor for Essanay. By 1912 he was a widely known screen personality, giving interviews and writing articles for the new fan magazines (the first of which had started the year before).
Turpin left Sennett in 1914 and immediately began appearing in larger roles, in satires that were created for his unique character.
In 1917 Turpin returned to Mack Sennett's studio a star. Through the twenties his roles often spoofed serious actors and celebrities of the time -- e.g. "The Shriek" for 'The Sheik' -- and Turpin became one of film's most popular comics. Delighted with his success, he took to introducing himself with the phrase, "I'm Ben Turpin; I make three thousand dollars a week." One of his sight gags was a backwards tumble he called the "108".
Turpin retired from film in 1924 to look after his ailing wife. He had invested his earnings in real estate, and being highly successful at this, had no financial need for more work. After his wife's death, however, he again began making irregular appearances in supporting comic roles in films in 1926. This would continue into the sound era; his last film role was in the Laurel and Hardy film Saps at Sea in 1940.