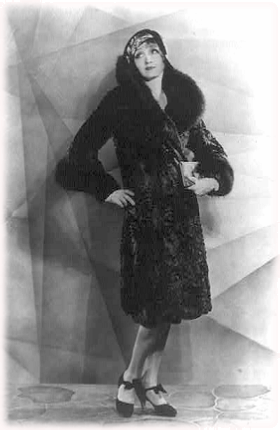 Hedda Hopper was an American actress and gossip columnist.
She was born Elda Furry in Hollidaysburg, Pennsylvania, the daughter of David and Margaret Furry, who were Quakers.
The family moved to nearby Altoona when Elda was three. Her father was a butcher who owned his own butcher shop. She eventually ran away to New York and began her career as a chorus line dancer on the Broadway stage. After a few years, she joined the theatre company of matinee idol DeWolf Hopper, whom she called "Wolfie."
In her words, "Dancing came easy to me. And in singing, what my voice lacked in quality it made up for in volume." Thus, she remained in the chorus and they toured the country from one end to the other.
While in the Hopper company, she realized that chorus and understudy jobs were not acting. She wanted to act, and she knew she would have to prove herself before she could hope to get anywhere in the theatre. Hearing that Edgar Selwyn was casting his play The Country Boy for a road tour, she went to his office and talked him into letting her audition for the lead. She was given the role and the show toured for thirty-five weeks through forty-eight states.
She studied singing during the summer and, in the fall, went out with The Quaker Girl in the second lead, the prima donna role. After the show closed in Albany, she was married in New Jersey.
She had but one husband, actor DeWolf Hopper (married May 8, 1913-divorced January 20, 1924). They had one child, actor William Hopper who played Paul Drake on the long-running series Perry Mason.
Elda Hopper paid a numerologist $10.00 to tell her what name she should use, and the answer was Hedda.
Hopper began acting in silent movies in 1915. Her motion picture debut was in Battle of Hearts (1916). She appeared in more than 120 movies over the following twenty-three years, usually portraying distinguished-looking society women.
As her movie career waned in the mid-1930s, Hopper looked for other sources of income. In 1937, she was offered the chance of a lifetime and embarked on a career doing something she was quite adept at: gossip. She began writing a gossip column for a Los Angeles newspaper.
After years of struggling as an actress, she had finally found her niche. She christened the home she purchased in Beverly Hills "The House That Fear Built." She then had a notorious feud with the long-established Louella Parsons, who had been friendly to her in print and to whom she had sometimes passed information. Hopper and Parsons became arch-rivals competing fiercely, and often nastily, for the title "Queen of Hollywood", although those who knew both declared that Hopper was the more sadistic, surprising given Hopper's Quaker background.
ZaSu Pitts compared Hopper to "a ferret", and pointed out that she should not have been surprised her (Hedda's) own movie career did not pan out.
Known for her gossipy comments and movie star interviews, Hopper debuted as host of her own radio program, The Hedda Hopper Show, November 6, 1939. It was sponsored by Sunkist on CBS three times a week for fifteen minutes.
From October 2, 1944 to September 3, 1945, Armour Treet sponsored the once a week program. On September 10, 1945, it changed to ABC, again sponsored by Armour once a week, and ran until June 3, 1946.
Hopper moved back to CBS October 5, 1946, with a once a week, fifteen minute program titled This Is Hollywood, which was sponsored by Procter & Gamble. It ran until June 28, 1947. The last season on the air had a change to thirty minutes and also changed to NBC.
From October 14, 1950 to November 11, 1950 on Saturdays, then from November 19, 1950 to May 20, 1951 on Sundays, she was heard hosting a program that contained music, talk, and dramatized excerpts from movies with a variety of the biggest names in the industry. She also did a television spot.
She was noted for her hats, considered her trademark, mostly because of her unusual taste for large, flamboyant ones. She was known for hobnobbing with the biggest names in the industry, for getting a "scoop" before almost anyone else most of the time, and for being vicious in dealing with those who displeased her, rather intentionally or not (the despised and feared columnist J.J. Hunsecker, played by Burt Lancaster in the film Sweet Smell of Success is said to have been inspired partly by Hopper).