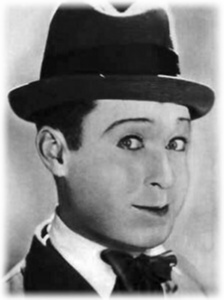 Born in Council Bluffs, Iowa, he began working in vaudeville then joined Vitagraph Movie Studios. He eventually went over to Keystone Studios where he became a major star.
At the height of his film career he was considered one of the four best comics of the silent film era. His screen character was that of a wide-eyed, childlike man with an innocent's understanding of the world and the people in it. He was a first-class pantomimist.
Most of Langdon's 1920s work was produced at the famous Mack Sennett studio. His screen character was so unique, and his antics so different from the broad Sennett slapstick, that he soon had a following.
Success led him into feature films, directed by Arthur Ripley and Frank Capra. When Langdon had such good directors guiding him, he produced work that rivaled Charlie Chaplin's, Harold Lloyd's, and Buster Keaton's. His best films were The Strong Man (1926) and Tramp, Tramp, Tramp (1926).
After his initial success, Langdon took creative control of his films and career, but his appeal faded soon afterward. His last starring silent feature was made in 1928; he wouldn't star in another feature until 1940. Capra later claimed that Langdon's decline stemmed from the fact that, unlike the other great silent comics, he never fully understood what made his own film character successful.
Harry Langdon's babyish character didn't adapt well to sound films; as producer Hal Roach remarked, "he was not so funny articulate." But Langdon was a big enough name to command leads in short subjects for Educational Pictures and Columbia Pictures. In 1938 he adopted a Caspar Milquetoast-type, henpecked-husband character that served him well, He also contributed to comedy scripts as a writer, notably for Laurel and Hardy.
Langdon continued to work steadily in low-budget features and shorts, always playing mild-mannered goofs, into the 1940s. When Hal Roach was in a contract dispute with Stan Laurel, one-half of the great Laurel and Hardy comedic pair, the studio paired Langdon with Oliver Hardy in a 1939 film titled Zenobia.
Harry Langdon kept busy right up until his death in 1944. Upon his death, the New York Times (Dec, 23, 1944) wrote respectfully of him: "His whole appeal was a consummate ability to look inexpressibly forlorn when confronted with manifold misfortunes--usually of the domestic type. He was what was known as 'dead-pan'...the feeble smile and owlish blink which had become his stock-in-trade caught on in a big way, and he skyrocketed to fame and fortune..."
In 1997, his hometown of Council Bluffs celebrated "Harry Langdon Day" and in 1999 named Harry Langdon Boulevard in his honor. For his contribution to the motion picture industry, Harry Langdon has a star on the Hollywood Walk of Fame at 6925 Hollywood Blvd.