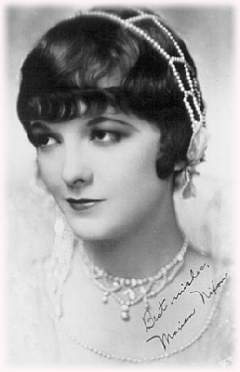 Marian Nixon started out as a vaudeville chorus dancer in her early teens, Nixon entered films in 1922. In 1924, she was chosen by the Western Association of Motion Picture Advertisers as a WAMPAS Baby Star, along with such other hopefuls such as future movie leading actresses, names like Clara Bow and Dorothy Mackaill.
After serving an apprenticeship as a Western ingénue, she was then given leading-lady assignments opposite such popular male leading stars, such names as Raymond Griffith, Reginald Denny, John Barrymore, Richard Barthelmess, and Al Jolson. She also was one of the few silent film stars who made a successful transition to talkies, starring with electrifying new leading man James Cagney in Winner Take All (1932), but her peaches-and-cream screen image was getting old. Her sound film debut came as Mary Lane in Rainbow Man (1929), which co-starred Eddie Dowling.
For her work in movies, she received a "Star" on the Hollywood Walk of Fame.