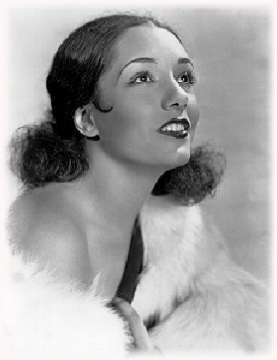 Lupe Velez was a Mexican American actress.
Born María Guadalupe Villalobos Vélez in the city of San Luis Potosí. She took dancing lessons and in 1924, made her performing debut at the Teatro Principal. She moved to California that year and was first cast in movies by Hal Roach.
Her first feature-length film was Douglas Fairbanks's The Gaucho (1927); the next year, she was named one of the WAMPAS Baby Stars, the young starlets deemed to be most promising for movie stardom. Most of her early films cast her in exotic or ethnic roles.
Within a few years she found her niche in comedies, playing beautiful but volatile foils to comedy stars. Her slapstick battle with Laurel and Hardy in Hollywood Party and her dynamic presence opposite Jimmy Durante in Palooka (both 1934) are typically enthusiastic Velez performances. She was featured in the final Wheeler & Woolsey comedy, High Flyers (1937), doing vicious impersonations of Simone Simon, Dolores del Rio, and Shirley Temple.
In New York, she landed a role in You Never Know, a short-lived Cole Porter musical. After the run of You Never Know, Velez looked for film work in other countries. Returning to Hollywood in 1939, she snared the lead in a B comedy for RKO Radio Pictures, The Girl from Mexico. She established such a rapport with co-star Leon Errol that RKO made a quick sequel, Mexican Spitfire, which became a very popular series. Velez perfected her comic character, indulging in broken-English malaprops, troublemaking ideas, and sudden fits of temper bursting into torrents of Spanish invective. She occasionally sang in these films, and often displayed a talent for hectic, visual comedy. Velez enjoyed making these films and can be seen openly breaking up at Leon Errol's comic ad libs.
The Spitfire films rejuvenated Lupe Velez's career, and for the next few years she starred in musical and comedy features for RKO, Universal Pictures, and Columbia Pictures in addition to her Spitfires. She was very popular with Spanish audiences, and lent her services toward improving the film industry in Mexico.