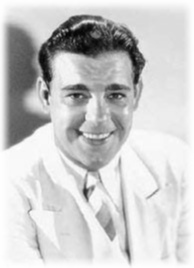 Born Creighton Tull Chaney in Oklahoma City, Oklahoma to Lon Chaney, Sr. and Cleva Creighton Chaney, a singing stage performer who traveled in road shows across the country with Lon.
It was only after his father's death that Chaney started acting in movies, beginning with an uncredited role in the 1932 film Girl Crazy. He appeared in films under his real name Creighton until 1935, when he began to be billed as "Lon Chaney Jr." (and would appear as "Lon Chaney" later in his career). He first achieved stardom and critical acclaim in the 1939 feature film version of Of Mice and Men, in which he played Lennie Small.
In 1941, Chaney starred in the title role of The Wolf Man for Universal Pictures Co. Inc., a role which would typecast him for the rest of his life. He maintained a career at Universal horror movies over the next few years, replaying the Wolf Man in Frankenstein Meets the Wolf Man, House of Frankenstein, House of Dracula, Abbott and Costello Meet Frankenstein, Frankenstein's monster in The Ghost of Frankenstein, Kharis the mummy in The Mummy's Tomb, The Mummy's Ghost and The Mummy's Curse. He played Dracula in Son of Dracula, a role for which he initially seemed completely wrong. But by playing the part with a quiet, ultra-controlled sense of menace he overcame the miscasting, and Dracula is now generally regarded as his best role in a Universal picture since the original Wolf Man. Chaney is thus the only actor to portray all four of Universal's major monsters: Wolf Man; Frankenstein Monster; Mummy; and Dracula. Universal also starred him in a series of psychological mysteries associated with the Inner Sanctum radio series. He also played western heroes, such as in the serial Overland Mail, but the six-foot, 220-pound actor often appeared as mundane heavies. After leaving Universal, he worked primarily in character roles in low-budget films, due to typecasting and alcoholism. In later years he often played mute or brutish roles, partly due to the ravages of throat cancer, the same disease that claimed his father's life. In his final feature film, Dracula vs. Frankenstein (1971), he played Groton, Dr. Frankenstein's mute henchman.
While continuing to pop up in lower budget horror epics throughout the 1950s, Chaney also established himself as a top-flight cameo artiste for producer Stanley Kramer, taking key supporting roles in the classic western High Noon (1952) (starring Gary Cooper), Not as a Stranger (1955), a hospital melodrama featuring Robert Mitchum and Frank Sinatra, and The Defiant Ones (1958, starring Tony Curtis and Sidney Poitier.) Kramer told the press at the time that whenever a script came in with a role too difficult for most actors in Hollywood, he called Chaney.
In the 1960s Chaney's career ran the gamut from decent horror productions, such as Roger Corman's The Haunted Palace and big-studio Westerns such as 1967's Welcome to Hard Times, to such bottom-of-the-barrel fodder as Hillbillys in a Haunted House and Dr. Terror's Gallery of Horrors (both 1967). His bread-and-butter work during this decade was television -- where he put in guest shots on everything from Wagon Train to The Monkees -- and a string of low-budget but entertaining and very traditional Westerns produced by A.C. Lyles for Paramount.